In view of the current situation and the ongoing measures due to the coronavirus pandemic, we decided to cancel this year's FME World Tour 2020, which was scheduled for 27 May in Prague. Unfortunately, at the moment we are not able to estimate how long the measures of the Czech government will last and how the situation will develop further.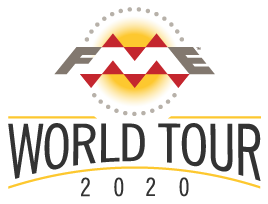 Seminar for everyone interested in data transformations and FME products will be held on May 27, 2020 in Prague or near the city. Seats are limited so please register as soon as possible using registration form.
We will send you the confirmation on your e-mail address. If you have any questions do not hesitate to contact us.
Reasons to Attend the FME World Tour
Discover what's amazing in the most recent release of FME
Network with other FME users and experts in your community
Learn time-saving tips and best practices you can apply to your work
Get a sneak peek of features coming in future versions of FME
Take home fun swag!
Date and time
Wednesday 27, May 2020 from 08:30 to 15:30.
Location
The seminar will be held in the hotel Park Holiday, Květnového povstání 194, Prague 10 - Benice (map).
Guests
Safe Software will be represented by Sonia Hobbs a Mark Stoakes.
Sonia Hobbs is the VP of Business Development and Strategy at Safe Software, where she oversees the Channel, Marketing, and Customer Education teams. Sonia's background includes management consulting, promotion management, and business development in the technology sector. She holds a Bachelor of Arts in International Relations from the University of British Columbia in Canada. Sonia supports initiatives that encourage the advancement of women in technologies.
Mark Stoakes has been with Safe Software since 1999 and is currently the lead of the FME Applications Experts team. Mark has a wide range of data integration, data transformation and data automation experience and has utilized the FME Platform for training, support and project consulting. Mark has a Mining Engineering degree from Nottingham University, UK and worked as a mining consultant before joining Safe.
Agenda
As part of the program, you can of course enjoy the influx of information about FME (Desktop, Server, and Cloud). The Agenda will be specified.
Other information
Participation in the seminar is charged. The registration fee is 1250 CZK without VAT (50 EUR). The registration fee includes lunch and refreshment during the whole day.
Presentations will be conducted in czech and english language without translation.
The schedule of the seminar is subject to change. Changes will be announced and updated on this web page.
Number of participants is limited.